Instructors
Learn from India's leading Data Science faculty and industry leaders
Our Learners Work At
Top companies from all around the world have recruited upGrad alumni
Career Transition Handbook
Learn more about our successful career transitions in Data
Admission Process
There are 3 simple steps in the Admission Process which is detailed below:

Step 1: Selection Test
Fill out an application and take a short 17-minute online test with 11 questions.

Step 2: Review & Shortlisting of Suitable Candidates
Our faculty will review all applications, considering the educational & professional background of an applicant & review the test scores where applicable. Following this, Offer Letters will be rolled out so you are assured a great peer group to learn & network with.

Step 3: Enrollment for Access to Prep Content
Make a quick block payment with assistance from our loan partners where required, receive immediate access to the prep content and begin your upGrad journey.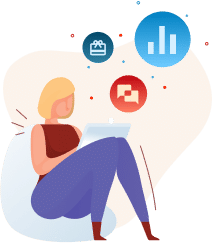 Refer someone you know and get Flipkart vouchers worth ₹3,000!
Share the gift of education and let your friends enjoy discounts of up to ₹7,500!